Description
Product Description:
Opinel's Slim Line collection is a pocket knife model with a stylish and modern design as well as an elegant appearance. It is a small, slim-built pocket knife model with a beech handle. It has a very thin and pointed structure. It is an ideal knife model that can be used while fishing and preparing fish. In accordance with the traditional structure of the Opinel brand, it has a round handle structure and lock system. It is flexible and thin, and carefully sharpened. In this way, it has a sharpness like a razor.
Features of the knife:
sandvik stainless steel
It is made of Sandvik 12C27 modified stainless steel material.
It is protected against rust/corrosion.
Thanks to the addition of chrome, it does not require special maintenance.
Since it contains at least 0.40% carbon, it provides excellent edge sharpness.
Routine maintenance will extend the life of your pocket knife.
Features of the Handle:
The handle is made of olive wood.
It is the legendary tree species of the Mediterranean.
In addition to being rigid, it is also very durable.
It has a yellow-orange appearance.
It has a dense and tortuous vascular structure.
It has a soft and pleasant polish to touch.
Features of Security Lock:
It was developed by Marcel Opinel in 1955.
Virobloc security ring is compatible with all foldable pocket knives from No: 6 onwards.
Cut from stainless steel.
Virobloc has two stages: open and closed.
When in the open position, it can be locked for safe use.
When in the closed position, it can be locked for transportation.
Technical specifications:
Closed State: 12.5 cm
Open State: 22.5 cm
Blade Length: 10cm
Blade: Sandvik stainless steel
Handle: Olive
Security Ring: Yes (Virobloc)
Origin: France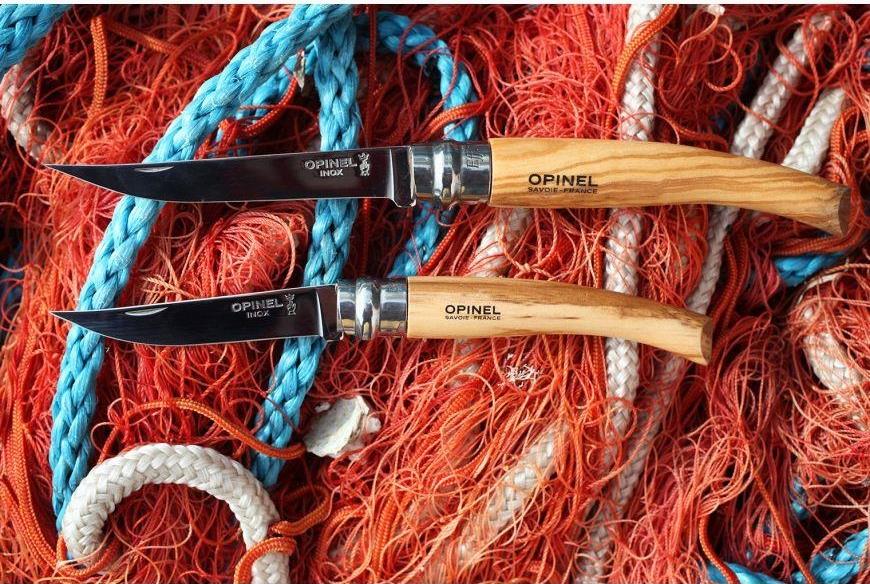 Opinel Inox Slim Line 10 Olive Tree Flecket Pocket Knife
$50.13